Hi Everyone,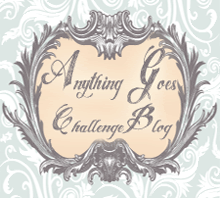 Have some exciting news to share with you all!
I have been invited to join the Design Team for
Anything Goes Challenge Blog
. I am beside myself with excitement and can't wait to get started on this ,it has long since been an ambition of mine!! The design team all seem so lovely and welcoming and as a Newbie to this am sure I will be eased into everything really well. Have only just stopped dancing around the floor.!!!!
For those of you who don't already know this is a fortnightly challenge, so lots of time to get your gorgeous creations made. The blog is run from the Craft Den and there are 10 or so other ladies on the design team, I just know it's going to be such fun!!!!
Do pop over and join Challenge 84 this week.
Challenge 84, is inviting you to create using Buttons and Bows. This is a great chance to lavish feminine charm on all your projects. Don't forget to pop over to the challenge blog
HERE
and see what my clever team mates have designed for your inspiration........and then pay a visit to
The Craft Den
to see what gorgeous goodies are on sale!!
Take care Everyone and Happy Crafting Moments
Hugs
Carol xxx